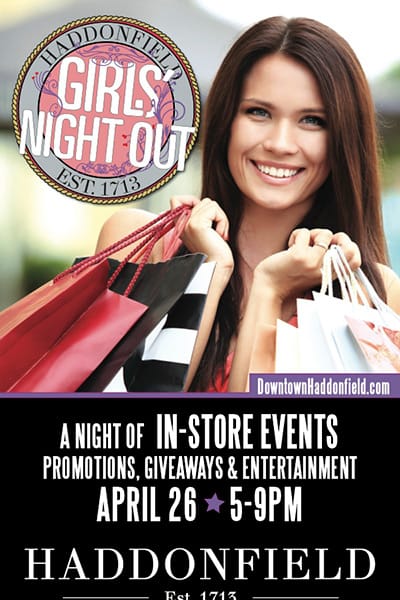 GIRLS' NIGHT OUT!, featuring a fun-filled, ladies' exclusive night of shopping, dining and relaxing will once again be held on Thursday, April 26 from 5 p.m. – 9 p.m.
Girls' Night Out! is a FREE EVENT in Downtown Haddonfield featuring in-store promotions, food, refreshments, and musical entertainment.
Come to Haddonfield and enjoy a  night of fun!
Preview of Open Stores until 9 P.M.
TANNER STREET
Colette Oswald Photography
Hugh's Clock Shop
Jules Portrait Design
Just Bella
Mind, Body and Art Studio
Sanook Thai Cuisine
ELLIS STREET
Lisa Michaels Retro Salon
Nocella's Pasta Fresca and Pizzeria

HADDON AVENUE
Conte's Card Castle
Jersey Java and Tea
Nicky B's Pizza
P.J. Whelihan's
The Bread Board Plus
Tony's Pizza
Tre Famiglia
Two Fish BYOB
VTrainers Personal Training,
MECHANIC STREET
In The Kitchen Cooking School and Boutique
KINGS COURT
Gracie's Water Ice & Ice Cream Parlour
Haddonfield Information Center
Jewelry & Timepiece Mechanix
Leaf Eatery
Wild Violet Natural Specialties
SHOPS @ 116 KINGS HIGHWAY
Braise 116
Fuji
Haddonfied Fine Jewelers
KINGS HIGHWAY
A Taste of Olive
Avenue Travel Group/Powered byAmerican Express
Cross Culture
Curvy Gal Consignment
Edible Arrangements
Gorshin's Trading Post & Supplies
Happy Hippo
Jay West
King's Road Brewing Company
Le Café Creperie
Ludovico's
Maison Marcelle Boutique
maxwelljames
Melange
Oriental Pearl
Passariello's Pizzeria and Italian Kitchen
Running Co. of Haddonfield (open until 8 P.M.)
Saxbys
SIX Clothing
Sole Active
Starbucks
Sweet Charlie's
The Bistro at Haddonfield
THE BOUTIQUE BAR
The British Chip Shop
The Lavish Loft, Quality Consignment for Women
The Picket Fence and The Garden Tea Room
The Tea Store (open until 8 P.M.)
thecandybuffet
Villa Rosa
Zaffron Mediterranean Cuisine
Preview of in-store events
*A Taste of Olive, 106 Kings Highway East: A Taste of Olive will have samplings and in store specials.
* Avenue Travel Group/Powered by American Express, 33 Kings Highway East: Avenue Travel Group will be serving wine and Hors d'oeuvres and specials on "Girls Only Getaways."
*Colette Oswald Photography, 40 Tanner Street: A hands-on free seminar on "How to be your own make-up artist!" – makeup artist Katie Sojka will discuss and demonstrate the proper techniques for makeup application and the basics of natural beauty.
Colette will briefly discuss how essential professional makeup is for portraiture.
4:00-4:45pm; demo #1
5:00–6:00pm: Open House, welcoming the senior class of 2019!
6:00—6:45pm: demo #2
7:00—7:45pm: demo #3
8:00—9:00pm: Open House
If you would like to apply the techniques that Katie will be discussing, please bring your own makeup supplies and brushes. RSVP to Colette@coletteoswaldphoto.com
*Curvy Gal Consignment, 221A Kings Highway East: will be opened and serving up some Prosecco and giving 10% off of every purchase!
*Edible Arrangements, 114 Kings Highway East: Edible Arrangements will have smoothies and dipped fruit specials to offer!
*Gorshin Trading Post & Supplies, 125 Kings Highway East: Gorshin Trading Post & Supplies, "Your Mancave Meets General Store" will be rolling out the red carpet for Ladies with chilled refreshments and THREE CHANCES TO WIN GIFTCARDS!
Ladies, you're invited to:
1) Pop in for a glass of bubbly.
2)FOLLOW @gorshintradingpost on INSTAGRAM to be a part of all upcoming Spring & Summer giveaways!
3) Find a gift while you sip of what you would love to give your dad, son, husband, boyfriend or secret crush!
4) Post a pic on Instagram of you holding the gift in our store (or, if you're camera shy ☺just a photo of your fave gift!). Hashtag it #gorshingifts
5) At 8:45 PM we'll select THREE pics to WIN a $25 gift card. How will you know if you've won? We'll let you know by commenting on your winning post! You can pop back in for your prize that night or we can mail it to you!
See you on Girl's Night Out!
*Haddonfield Fine Jewelers, Shops at 116 Kings Highway East: Spring Clean your Jewelry…… Stop in for a free jewelry cleaning and inspection. *** Girl's Night Out Special *** Up to 30% of in store items featuring collections by Meira T and Monarch Design (www.meiratdesigns.com) and Monarch Sterling Bracelets. www.monarchnyc.net. Enter to win a chance at a sterling silver by Monarch valued at $ 150.00. Wine and light refreshments by Braise 116.
*Happy Hippo, 201 Kings Highway East: 20% off to all ladies from 5-9pm (no further discounts).
*Hugh's Clock Shop, 8 Tanner Street: Hugh's Clock Shop offer is to bring in your favorite clock for a free appraisal. Also 20% off on all Grandfathers Clocks.
*In The Kitchen Cooking School and Boutique, 10 Mechanic Street: Join us for wine and wonders! Get ready for Mother's Day with Ruth Scott from Cupcakes by Ruth as she makes Fondant Art Roses. HUGE sale on Tokyo Milk and Lollia fragrances and lotions. Get your Gift Certificates for classes, and enjoy lots of giveaways!
*Jay West, 151 Kings Highway East: Jay West will offer 20% off ALL non-sale prom for the evening.
*Jewelry & Timepiece Mechanix, 16 Ellis Street @ Kings Court: DRESS UP NIGHT @ Jewelry & Timepiece Mechanix – Come and try on your favorite piece of jewelry from our shop and get your photograph taken wearing it. Special one night only deals. 50% off one special item. Share your photo (and tag us) on social media and get a coupon for a future purchase. Come enjoy champagne punch, fresh fruit and a sweet dip.
* Jules Portrait Studio, 12 Tanner Street: Come to Jules Portrait/ShowUrSexy and Enter-to-Win a Boudoir/Beauty portrait session & album with hair & makeup by Louis Christian Robert John Salon, a $700 value.
*Just Bella, 3 Tanner Street: Please stop at Just Bella and wish them a "Happy First Anniversary" in Haddonfield's business district.
*King's Road Brewing Company, 127 Kings Highway East:  $1.00 off all drafts in tasting room (Flights, crowlers and growlers excluded).
*Leaf Eatery, 6 Kings Court: Enjoy a complimentary cocktail with any dine-in food purchase.
*Lisa Michaels Retro Salon, 77 Ellis Street: Lisa Michael Retro Salon will be having a fun party with appointments with a palm reader and fortune teller.
*Maison Marcellé, 134 Kings Highway East: Maison Marcellé will be offering 10% off the entire boutique and hosting a 1920s themed Paris cabaret, with hors d'oeuvres, live models and a French songstress.
*maxwelljames, 137 Kings Highway East: maxwelljames will be having cupcakes, cocktails and storewide discounts!
*Melange, 45 King's Highway East: Melange will be offering sips, snacks and 10% off purchases.
*Mind, Body and Art Studio, 23 Tanner Street: Mind, Body and Art Studio will be offering a special giveaway for art classes for children.
*Running Co. of Haddonfield, 121 Kings Highway East: 20% off storewide.
*Sweet Charlie's, 128 Kings Highway East: Sweet Charlie's will create a special free sample of the special liquor ice cream.
*The Lavish Loft, Quality Consignment for Women, 105 Kings Highway East:
1)The Lavish Loft will be kicking off "10 days of giveaways" for Girls Night Out With Cosmos, Cake, Coupons and more. Our first prize will be a $100 gift card for the store. Drawing will be at 8:30 and then 30 minutes prior to the end of the day for the other 9 days. We will pick and announce the winners live on Social media (Facebook).
2)Lavish Loft will also be collecting donations for Susan G. Komen, Race for the Cure starting on Girls Night Out and continuing Up until the Race. For every $5.00 donation someone makes, they will receive a special gift.
3)Sue Polikoff, (The Race For The Cure Event Coordinator) will be at The Lavish Loft if anyone would like information or to sign up for the race. There will be T-shirts and other goodies too.
4)Anyone that donates will have the option of writing a special message (or their name as a donor) on a Pink Ribbon Blank and we will display the ribbons throughout the store.
*The Picket Fence and The Garden Tea Room, 103 Kings Highway East: The Picket Fence and The Garden Tea Room will have tea samples to taste with samples of sweets; 15% – 25% off .
*The Tea Store, 222 Kings Highway East: The Tea Store will be offering Gift Basket Giveaway, no purchase required, only a name, number, and email to win or leave a business card to win!! Tea Tasting, Local Honey Tasting! 10% off a purchase of $20 or more until 8 P.M.
*VTrainers Personal Training, 423 North Haddon Ave: Free personal training session for all women. Email vtrainers@aol.com to schedule ahead.
Music
Sweet Spot, 221a Kings Highway East @ Curvy Gal
Frank Staff DJ at Haddy, Haddy Lane and at the Gazebo in Kings Court