Thursday, April 22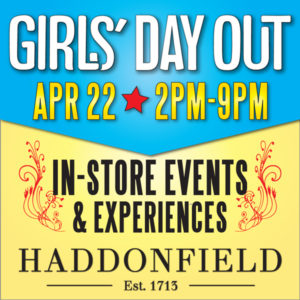 Formerly Girls' Night Out!, this annual event has been extended to an all-DAY shopping spree, from 2pm to 9pm. Many of the town's shops will offer the latest Spring fashion and gifts while restaurants offer the tastiest fresh fare; and shoppers will enjoy  unique store events and experiences. Round up your gal pals and enjoy an entire day of shopping and fun!
Spend a girls' day exploring shops along Kings Highway and our side streets – which include Mechanic Street, Ellis Street, Tanner Street, Haddy Lane, Kings Court, and Haddon Avenue. Dine at award-winning restaurants, and discover in-store events and experiences at participating shops throughout the Downtown. One shop might host an interactive pop-up, while another may give out complimentary gifts with purchase, or host a raffle for promotions & prizes. One thing's for certain: You don't want to miss this exciting shopping event!
"We first extended this to an all-day shopping event in the fall of 2020, and it was a hit! We're looking forward to our second Girls' Day Out all-day shopping event, and welcome everyone to shop, dine, discover, and support locally owned businesses in Downtown Haddonfield," said Susan Hodges, Chair of the Partnership for Haddonfield.
The Downtown is adhering to state guidelines by requiring visitors to wear masks indoors, not only for their safety but for the safety of others around them. Masks should also be worn outdoors when six feet of social distance cannot be practiced. Social distancing should be maintained between visitors wherever possible, and hand sanitizing protocols should be practiced.
Join our e-mail list to receive updates and information on this and other Downtown events and special offers!