Downtown Haddonfield's campaign, Haddonfield Cares, continues to highlight measures to keep everyone safe while shopping and dining
"We want our visitors to know that Haddonfield cares deeply about their safety and well-being, as well as that of our business owners. We therefore have implemented a number of directives and best practices to keep everyone safe while enjoying our beautiful Downtown," explained Remi Fortunato, PfH Retail Recruiter.
As our everyday lives continue to be altered due to COVID-19, Haddonfield businesses have adjusted to the 'new normal' by providing ways to safely shop in-store, online, and with contactless curbside pick-up; and to safely dine indoors and outdoors or use take-out and delivery services.
The Downtown is adhering to Governor Murphy's guidelines by requiring visitors to wear masks indoors and outdoors during their visit, not only for their protection, but for the safety of others around them. Wherever possible, six feet of social distance should be maintained between visitors, and sanitizing protocols should be practiced.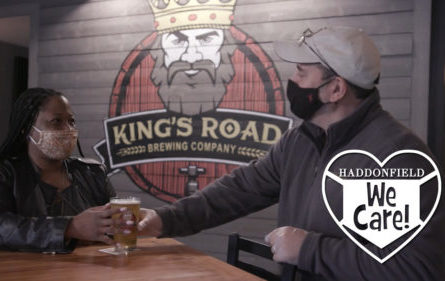 Tables at restaurants will have to be spaced 6 feet apart. Gatherings are limited to eight people per table, and patrons need to maintain a 6-foot minimum distance from anyone outside of their group.
Face-coverings will have to be worn when away from their table.
Re-opening guidelines are rapidly changing as we move forward with containing the pandemic. Follow the announcements on NJ.gov.