'I Heart Haddonfield' commences with the second annual GALentine Chocolate Crawl on Thursday, February 13, and continues on Friday, February 14 with vow renewals and other celebrations of commitment. Both events take place from 5-9 p.m. in Downtown Haddonfield.
GALentine Chocolate Crawl – Thursday, February 13
Grab your gal pals for a night of shopping and chocolate during our second annual GALentine Chocolate Crawl! From 5-9 p.m., participating merchants along Kings Highway and our charming side streets – which include Mechanic Street, Ellis Street, Tanner Street, Haddon Avenue, and Kings Court – will be offering all sorts of mouth-watering chocolate treats to shoppers who visit their shops during the Crawl. Shoppers making purchases on February 13 can enter to win a $200 town-wide gift certificate. Proofs of purchases from any or all Downtown Haddonfield businesses made on Thursday, February 13 between 5-9 p.m. must be presented in person or mailed to the Haddonfield Information Center, located at 2 Kings Court in Haddonfield, from Thursday, February 13 through Sunday, February 23. The winner of the gift certificate will be announced on Sunday, February 23.
PARTICIPATING STORES
Ellis Street
Jewelry & Timepiece Mechanix, 16 Ellis Street @ Kings Court
Adrian Rowan Photography, 24 Ellis Street
Haddon Avenue
Tre Famiglia, 403 North Haddon Avenue
Zanzour Accent European Furniture, 7 North Haddon Avenue
Mechanic Street
In The Kitchen Cooking School and Boutique, 10 Mechanic Street
Kings Court
Haddonfield Information Center, 2 Kings Court
Kings Highway
Anatolia Art and Craft Studio, 35 Kings Highway East (Suite 100)
Duffy's Fine Chocolates, 145 Kings Highway East
English Gardener Gift Shop, 123 Kings Highway East
Inkwood Books, 106 Kings Highway East
Irene's Consignment Boutique, 142 Kings Highway East
Joey's Unique Boutique, 212 Kings Highway East
King's Road Brewing Company, 131 Kings Highway East
Maison Marcelle Boutique, 134 Kings Highway East
Mare Monte, 1 Kings Highway East
maxwelljames,137 Kings Highway East
MECHA Chocolate K3 7 Kings Highway East
Melange, 8 Kings Highway East
Meraki Market, 136 Kings Highway East
Passariello's Pizzeria and Italian Kitchen K7 117-119 Kings Highway East
Raks Thrift Avenue, 43 Kings Highway East #1 (Haddy Lane)
SHOP, 8 Kings Highway East
Sole Active, 107 Kings Highway East
TÁL32 Bespoke Confectionery, 43 Kings Highway East (Haddy Lane # 2)
The Bistro at Haddonfield, 59 Kings Highway East
The British Chip Shop, 146 Kings Highway East
THE BOUTIQUE BAR, 111 Kings Highway East
The Lavish Loft, Quality Consignment for Women,105 Kings Highway East
The Spice and Tea Exchange, 103 Kings Highway East
Queen's Carriage, 125 Kings Highway East

Vows and Renewals – Friday, February 14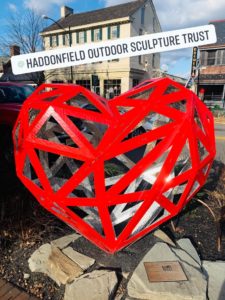 The second annual 'I Heart Haddonfield' continues on Valentine's Day, Friday, February 14, with selfies and special events at the "Open Heart" sculpture at Kings Court. From 5-9 p.m., officiants will be onsite to 'make it official' for couples interested in renewing their vows, getting married (official NJ documents required), getting engaged, or making partnership commitments. Couples will receive flowers, chocolates and official signed certificates. Enjoy live music under romantic pink lighting, and be entered into a drawing for prizes including dinners from Denim and Mare Monte, goodies from King's Road Brewing Company, and much more. . Share your best selfies during this celebration of love on social media, post on Facebook, Instagram and Twitter tagging @host08033 and use the hashtags #IHeartHaddonfield and #DowntownHaddonfield. Everyone can take their own pictures at "Open Heart" and post – parents with babies, school friends, pet friends, anyone you love.
Borough Sponsor:
Reserve your spot today to be one of at least 20 couples celebrating Valentine's Day 2020.
A confirmation reminder will be emailed to you sometime before the event.  Then just show up at the "Open Heart" sculpture at Kings Court.