Downtown Haddonfield's signature weekend extravaganza invites everyone to support the local economy by shopping small and dining locally at their favorite independently-owned stores and food/beverage establishments.
Merchants offer an outstanding selection of gifts for friends and family, with extra shopping incentives, trunk shows, and other promotions. Free parking will also be available starting on Thanksgiving through Christmas Day.
Friday, November 27 also marks the kick-off to the Downtown's signature Candlelight Shopping holiday season event, which takes place from 6-9 p.m.
Transformed into a winter wonderland, Downtown Haddonfield will be brimming with sparkling white lights and garland wreaths. Every Friday evening leading up to Christmas Day, the streets of Downtown Haddonfield will be lined with luminaria for Candlelight Shopping, providing holiday warmth and a festive atmosphere.
In addition to unique clothing, gift, bridal, and novelty shops, Haddonfield offers an assortment of dining options – including fine restaurants, a brewery, a wine tasting room, coffee, and sweet treat shops. Fine chef-owned BYOBs offer a range of cuisines such as Italian, Asian, Mediterranean, and more; fun & casual dining offers include hoagies, pizza, crepes, vegan options and more; and an array of gourmet and food-oriented retailers sell everything from gourmet cupcakes and specialty olive oils to food items from France and the British Isles. The chefs of Haddonfield provide guests an authentic experience with unique menu items offering savory dining options sure to meet the appetite of any hungry shopper.
Haddonfield's Downtown is unique in the tri-state area – spend a few hours exploring and you can even treat yourself, friends, and family to a class at a chef-owned cooking school! The Downtown area hosts day spas and hair design studios, for some luxurious pampering. You can pamper your pets, too, at one of the pet stores and grooming salons.
Sign Up for our newsletter to receive information about Events and other happenings in Downtown Haddonfield!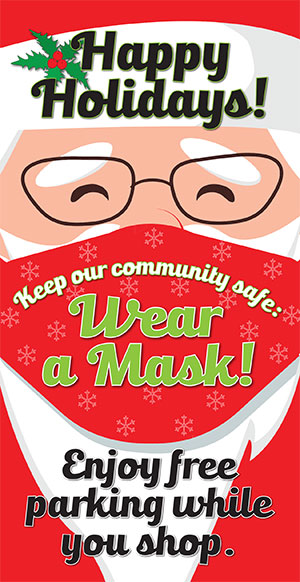 HADDONFIELD CARES: BE SAFE & MASK UP 
The Downtown is adhering to state guidelines by requiring visitors to wear masks indoors, not only for their safety but for the safety of others around them. Masks should also be worn outdoors when six feet of social distance cannot be practiced. Social distancing should be maintained between visitors wherever possible, and hand sanitizing protocols should be practiced.
The Partnership for Haddonfield (PfH), the management corporation for Haddonfield's business improvement district, thanks all who have shown support to the businesses by shopping in-store and online, buying gift certificates, taking part in virtual experience classes, or choosing dining and/or take-out or delivery from our food and beverage establishments.