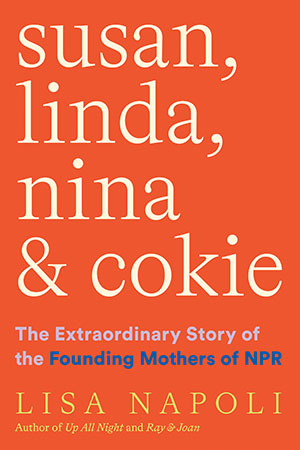 Author! Author! It's here!
Plan to order your tickets for the kick-off event in The Haddon Fortnightly's 2021-2022 author lecture series. You won't want to miss joining author Lisa Napoli as she discusses her new book, Susan, Linda, Nina and Cokie: The Extraordinary Story of the Founding Mothers of NPR, in a virtual event on Wednesday, June 23 at 7:00 p.m.
In the years after the Civil Rights Act of 1964, women in the workplace often still found themselves relegated to secretarial positions or locked out of jobs entirely. This was especially true in the news business, a backwater of male chauvinism where a woman might be lucky to get a foothold on the "women's pages." But when National Public Radio came along in the 1970s, and the door to serious journalism opened a crack, four remarkable women came along and blew it off the hinges.
Lisa Napoli's new book is a captivating account of Susan Stamberg, Linda Wertheimer, Nina Totenberg and Cokie Roberts, their enduring friendships and the trails they blazed while becoming icons. 2021 is the 50th anniversary of NPR's first transmission, making this an ideal time to celebrate the women whose voices defined public radio and paved the way for future female journalists. Lisa Napoli, who has had a long career in journalism, weaves the stories of these women and of NPR itself together in a great summer read that you won't want to put down. And you'll be fascinated by Ms. Napoli's accounts of the extensive interviews featured in the book.
Remember, because the author lecture is a virtual event, you can join safely from anywhere. This is also an opportunity to share an evening with long distance friends who may not typically be able to attend Fortnightly book talks. Why not invite a book-loving friend in another part of the country to share this fun and fascinating event?
The cost is $10 for the link to the virtual event or a special rate of $35.00 for the link and a copy of the book with a signed bookplate. All ticket purchases will be handled by Inkwood Books in Haddonfield, NJ. Books may be picked up at Inkwood Books or may be shipped for a small additional amount.
For tickets and book orders, go to https://shop.inkwoodnj.com/lisa-napoli-haddon-fortnightly
Proceeds from the tickets and a portion of the book sales will benefit The Haddon Fortnightly