Many of the Downtown's restaurants moved seating outdoors during the past few months to serve patrons under the health guidelines. The recent announcement by the New Jersey Governor extends seating to indoors at 25% capacity.
Downtown Haddonfield offers an assortment of dining choices including fine restaurants, quaint coffee shops, and sweet ice cream shops. Haddonfield has it all… fine chef-owned restaurants offering a range of cuisines like Italian, Asian,
Mediterranean, Indian, and more; fun & casual dining options like hoagies, pizza, organic juice drinks, yogurt, and more: and an array of gourmet and food-oriented retailers.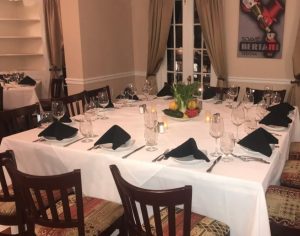 The chefs of Haddonfield offer guests an authentic experience with unique menu items offering savory dining options sure to meetthe appetite of any hungry shopper.
Patrons are asked to wear masks unless eating, and maintain six feet of distance between others while dining.
Outdoor seating will continue at many establishments, weather permitting, to allow more guests to enjoy a Downtown meal. For those who prefer it, curbside delivery of pre-ordered retail purchases remains available at many shops and restaurants continue with curbside pickups and deliveries.