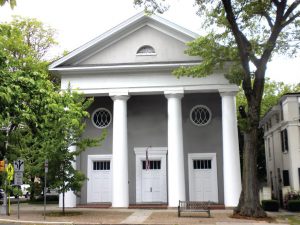 Date: Sunday March 24th, 2019
Event Name: Special Open House
Location: The Haddon Fortnightly, 301 Kings Highway East, Haddonfield, New Jersey 08033
Brief Description: Open House for rentals at The Haddon Fortnightly Clubhouse
Time: 1pm to 3pm
Cost: none
A SPECIAL OPEN HOUSE AT THE HADDON FORTNIGHTLY CLUBHOUSE
Are you searching for the perfect venue for your special event? Why not join us for a special Open House at The Haddon Fortnightly Clubhouse on Sunday, March 24, 2019 from 1:00 p.m. to 3:00 p.m. Located at 301 Kings Highway East, Haddonfield, this 1857 Greek revival building provides an elegant setting for special occasions, including weddings, christenings, first communions, graduations, bar and bat mitzvahs and other special events. We'll help you envision how you can personalize our lovely, historic venue to create the special event of your dreams.
As an added incentive, anyone who attends the Open House on March 24 and signs a contract accompanied by the necessary deposit between March 24 and April 24, will receive a 10% discount on the booking.
For more information about rentals, call The Haddon Fortnightly at (856) 428-9040 or visit our website, www.thehaddonfortnightly.org.