Haddonfield, NJ – June 5, 2020 – Haddonfield, NJ has been recognized as the #1 'Top Town' in both the South Jersey region and in Camden County for 2020 by South Jersey Magazine.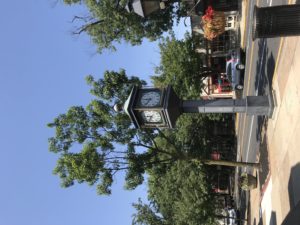 "With 25 towns throughout the region ranked for this recognition, it's truly an honor to have Haddonfield recognized as the #1 town to live, work and visit, not only in the county but in the South Jersey region," said Haddonfield Mayor Neal Rochford. "We hope that this continued recognition will encourage those who haven't experienced our historic town, to come and visit for the day when in the Delaware Valley area," he continued.
The #1 ranking is based on data gathered by South Jersey Magazine from the New Jersey State Police, the New Jersey Department of Education, and the state's Division of Local Government Services. Using a weighted formula, they combined average property values and taxes, crime incidents reported per 1,000 residents and high school performance numbers consisting of average SAT scores, graduation rates, and more.
According to South Jersey Magazine, "Haddonfield once again sits atop the list and it's certainly earned the recognition. Property values are among some of the highest in the region, the educational system is topnotch and the quality of life and close-knit community offer an idyllic place to call home" Read the South Jersey Magazine Top Towns 2020 full article here.
With historic roots dating back to the pre-revolutionary war era, Haddonfield has long been considered one of the best small towns in the Delaware Valley. The town of Haddonfield has taken on many different appearances and roles during its lifetime. Today, it is a successful residential community with historic homes, an excellent school system, a Downtown with lovely shops and restaurants, and historic sites like the Indian King Tavern and Greenfield Hall.
Since the COVID-19 pandemic hit earlier this year, Downtown Haddonfield has promoted ways for everyone to shop safely. Downtown Haddonfield launched an 'Open for Business' campaign highlighting ways to safely do business with Downtown shops and food/beverage establishments. For the most up-to-date list and announcements regarding businesses in Downtown Haddonfield, visit DowntownHaddonfield.com/Events/Open/.
The Partnership for Haddonfield (PfH), the management corporation for Haddonfield's business improvement district, thanks all who have shown support to the businesses by shopping online, purchasing online gift certificates, taking part in virtual experience classes, or choosing take-out or delivery from our food and beverage establishments.
For a complete list of South Jersey Magazine's Top Towns for 2020, visit https://www.southjerseymagazine.com/article/2645/Top-Towns-2020.