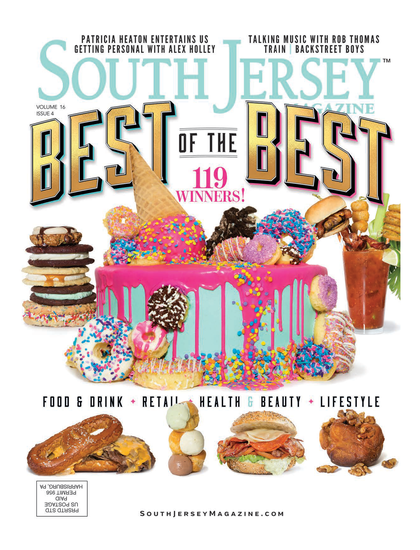 Specialty Food Market | Valente's Italian Specialties in Haddonfield
After years of building a following at local farmers markets, the family-run Valente's opened a brick-and-mortar location in the heart of downtown Haddonfield. Drawing on Old World recipes and techniques, with ingredients sourced from local farms and vendors, this market offers homemade pastas, sauces, and even fresh ricotta and mozzarella, to elevate any dish we prepare at home. Along with their takeout family meals, sandwiches and loaves of bread baked daily, we've got plenty of excuses not to cook tonight.
Stuffed Doughnuts | Haddonfield Doughnut Co. in Haddonfield
You've never had a stuffed doughnut until you've made your way to Haddonfield Doughnut Company's counter. We like to think you can't go wrong with any option, but we particularly enjoy the Strawberry Shortcake, which is a vanilla doughnut dipped in strawberry glaze, filled with vanilla buttercream and topped with strawberry filling.
Cannoli | Gelato Dolceria in Haddonfield
This shop offers authentic tastes of some of Italy's sweetest concoctions, including its sweet and creamy ricotta-filled cannolis ideally finished with a flurry of moist chocolate chips and a dusting of powdered sugar.
Brownies | Sweet T's Bakeshop in Haddonfield
We all get that craving for chocolate every once in a while, maybe a few times a week—who are we kidding, it's more often than that! Sweet T's Bakeshop knows the way to our inner chocolate lover. Brownies are all fudge-y and rich, made with real chocolate and flavors range from chocolate chip to rocky road and even chocolate mint cheesecake.
Bridal Jewlery | DeSimone Jewelers in Haddonfield
The DeSimone family thrives on longstanding customer relationships, many of which are built on the strength of their personalized level of service and masterful creation of handcrafted jewelry. And they know that finding the right engagement ring or perfect wedding band can be unnerving, so they eschew the gimmicks in favor of honest advice, allowing you to make an informed purchase without any undue pressure.
Special Occasion Jewelry | Haddonfield Fine Jewelers in Haddonfield
Special moments call for special bling and at Haddonfield Fine Jewelers you'll find everything you need to step out in style. From designer brands to custom pieces, this shop offers a varying collection of jewels to make sure that you look unforgettable during those most memorable of times.
Women's Boutique | Six Clothing in Haddonfield
With over 25 designers to choose from, this Haddonfield clothing store is a must-visit for style-conscious South Jersey women. Whether you're shopping the new trends or you need to find a perfect outfit for your next date night, owner Erica Brand has cultivated a place for you to find it all.
Gift Shop | The Polished Plate in Haddonfield
One of the most enjoyable aspects of getting engaged is starting a wedding registry, and this store located in the heart of Haddonfield's downtown shopping district has been a favorite of happy couples since opening in 2006. It's also the perfect destination for those seeking a shower present or to treat themselves, with a stunning collection of dinnerware, glassware, vases and more.
Runner's Gear | Running Co. in Haddonfield
The sport of running is not one-size-fits-all. Even something as simple as the type of sock you're wearing can have an impact, which is why having friendly and experienced people to turn to can make all the difference in meeting your goals. From getting personally fitted for the correct sneakers or sports bra to GPS-enabled watches and polarized sunglasses, this runner's haven will put you on the right track for your next PR.
Yoga Gear | Sole Active in Haddonfield
Sole Active is the place for everything you need yoga-related—from mats, stylish leggings and tops from popular brands such as Spiritual Gangster and Onzie, to colorful headbands and Pura Vida jewelry to have you looking the part in no time.
Bridal Shop | Country Way Bridal in Haddonfield
Whether you are looking for a modern or traditional look on your special day, Country Way Bridal has a unique selection of wedding gowns and bridesmaid dresses from top designers including Hayley Paige and Enzoani, and various bridal belts and headpieces to complete your look. Owner Yvonne and her daughter Devon take time and care with each bride, making it the most personalized wedding shopping experience in South Jersey. (856) 745-9005, 
Readers Choice
Prom Wear | Jay West, Haddonfield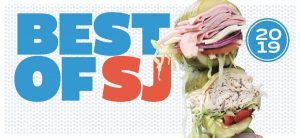 BEST PASTA DISH
You can't go wrong with the Linguine Aurora at Tre Famiglia – jumbo shrimp, scallops and jumbo lump crabmeat in a light tomato-cream sauce. It's just the right amount of perfectly cooked pasta and sumptuous fresh fish, plus a delicious sauce that isn't too heavy. Trust us and try it.
BEST TWO-BITE CUPCAKE
The two-bite cupcakes at Indulgence Cupcakery are small by design (so you can try more than one!) but big in taste. With bakers choosing 20-25 flavors daily from a huge list of yummy options, so many varieties may be calling your name. Best come early before they're sold out.