Townwide Gift Certificates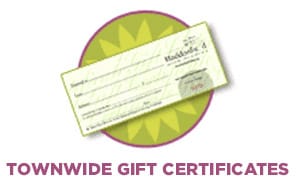 Need a gift for someone special but are unsure what to buy? The "Haddonfield Town-Wide Gift Certificate"  is a perfect solution to your problem. The gift certificates are available online and at the Haddonfield Information Center (2 Kings Court) and are accepted at most of our retail and service businesses and professional offices town-wide. Whether you're buying one for your grandchild or your grandparent, the Haddonfield Town-Wide Gift Certificate is sure to offer an unmatched shopping experience for your special someone.
Out of town or don't have time to stop by the Haddonfield Information Center to purchase your certificate? No problem. You may now purchase a certificate online though downtownhaddonfield.com! Simply Choose a dollar amount from the drop down menu below and click " Buy Now!" and we'll ship the certificate right to your doorstep.